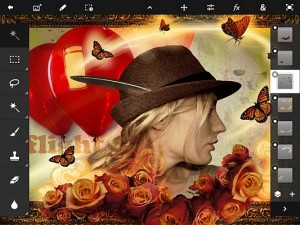 Adobe today announced that Adobe Photoshop Touch, previously available for Android tablets only, has now been released for the Apple iPad 2. The app is a central component of Adobe Touch Apps, a family of six touch screen applications, inspired by the Adobe Creative Suite.
"Adobe Photoshop Touch lets users transform images with core Photoshop features in an app custom-built for tablets,"
the company says.
"With simple finger gestures, users can combine multiple photos into layered images, make popular edits and apply professional effects… With Refine Edge technology from Adobe Photoshop, even hard-to-select areas with soft edges, such as hair, are easily captured when making selections."
The app is available on iTunes for $9.99.